Ah! all you thought was a Taiwanese single in fact is a Thailandese single!! So, there's no discography on Taiwanese singles but on singles from Taiwan only. It's all on this page.
Sorry about this tremendous notice but this is the true story .... take a deep breath and please take a look at the Thailandese disco ...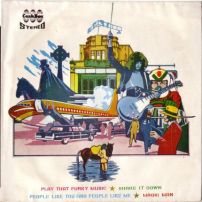 Tutto quello che avete pensato e che vi hanno detto sugli EP provenienti da Taiwan (Formosa) si è dimostrato essere in effetti fatto in Tailandia, quindi in questa sezione non ci sarà alcuna discografia ma in compenso tutto in quest'altra pagina.
Spiacente per la cocente delusione ma questa è la realtà ... un bel respiro profondo ed andate a vedere la discografia Tailandese ...