LukeTheDuke site © 2007-10
Welcome to my blah blah pages!!
... not ready yet ...
(all and nothing)


Did you ever heard of these bands ... ??
The Khan-Chy's Yawn - this was real pub'n'roll and real fun
E.T. & The Flying Crutch / NoPhonics - this was pure rock with hard, funk, r'n'r and little pop influences
... and I was the singer ...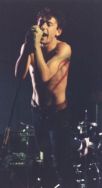 Why Vjez.it (.com)?
Well, it's pretty easy and funny: if you'll read "Vjez" in a certain way it will sound like "Vigezzo" but said in the typical slang of the valley [please read the "e" of Vjez a little bit more like "a"].
More thant this, if you'll read the whole "Vjez.it", it will sound like the people of the valley said as well in the slang way (vigezzit = people from the vigezzo valley).
If you don't know the Vigezzo Valley please take a look around: it's a really beautiful place

Perchè Vjez.it (.com)?
La scelta è stata divertente e penso carina: leggendo "Vjez" (vi gez) in pratica si ha la translitterazione vocale di "Vigezzo" come detto nel dialetto della valle.
Inoltre, leggendo di seguito "Vjezit" (vi ge zit) si ottiene la pronuncia di "Vigezzini", ovvero la popolazione, come si direbbe in valle.
Tra l'altro, a parte le eventuali difficoltà di pronuncia di uno straniero, è pur sempre un dominio di sole quattro lettere !!!
Per chi non conoscesse la Valle Vigezzo, un caloro invito a visitarla perchè è veramente un gran bel posto.